The gaming industry is growing rapidly due to technological advancement. Today, most gaming enthusiasts are willing to invest heavily in various gaming accessories, including gaming computers, consoles, joysticks, and keyboards. One essential accessory that most gamers forget is a gaming chair. A gaming chair plays a significant role in gaming and improves the overall gaming experience. Below are top reasons you need a gaming chair:
1. Optimal comfort
As the name suggests, a gaming chair is specifically designed for gaming. It offers optimal comfort required by the gamer, especially when playing for long hours. If you use a regular seat while gaming, you're likely to hurt your back. You'll also get frequent interruptions between sessions to stretch or adjust your sitting position. With a gaming chair, you won't strain your back and neck, and you'll play without getting tired.
2. Your eyes won't strain
Since a gaming chair is adjustable, it means that you can easily bring your eyes close to your gaming computer screen. This will prevent your eyes from straining. Straining too much can result in impaired vision and regular headaches. If you choose to use a regular seat, you won't be able to adjust its height to prevent this. There's no point in struggling when gaming while using a regular seat. Buying a gaming chair will help you save your eyesight. You can get a cheap one if you're on a budget. Remember, your eyes aren't replaceable in case they can't function at all.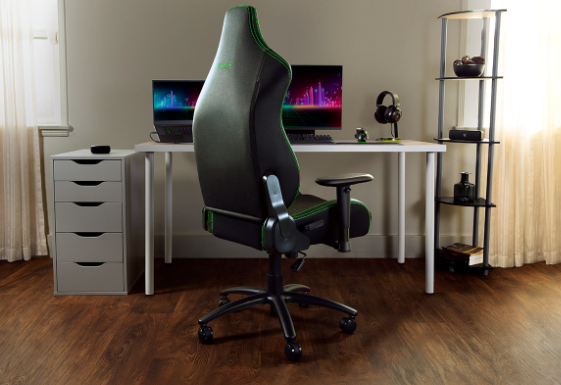 3. Improves sitting posture
When gaming for long hours, it's essential to maintain a good sitting posture. Poor posture can strain your back muscles and joints and will also reduce blood flow, especially to the lower body. If you want the best gaming chair to improve your posture, visit the website https://www.razer.com/lifestyle/gaming-chairs. You'll get all kinds of gaming chairs with ergonomic designs which will relieve back and neck pressure, thus improving circulation. Most gaming chairs also have adjustable features, where you can lower or raise the head/neck support or the general height to increase comfort.
4. Improves concentration
Comfort is also a major determinant for focus and concentration when gaming. If you use regular seats when gaming, you'll regularly feel numbness, pains, or aches at some point. All these will affect your concentration and general gaming performance. However, with a gaming chair, comfort is taken care of, thus improving your concentration.
5. Enhances gaming performance
Gaming chairs improve the overall performance of gamers. This is because they'll be minimal distractions in between sessions for stretching and changing sitting postures. Gaming chairs will provide the required comfort, thus directly improving concentration. Most gaming chairs have excellent cushioning, which will make you sit for long, thus improving the overall gaming experience.
In conclusion, these are the top reasons you need a gaming chair. These chairs come at varied prices and designs. In most cases, your budget will determine the type of gaming chair you buy. If you want to purchase one, ensure you check its comfort, design, flexibility, and other extra features.