Industrial cleaning equipment refers to a group of devices used to mechanize/automate the cleaning process. This equipment effectively removes waste and dirt materials in industrial facilities. Examples include pressure washers, scrubbers, sweepers, and dries, just to mention a few.
Variety of Valves for Industrial Cleaning Equipment
The type of valve you should use with your industrial cleaning equipment depends on the equipment's application and deployment environment. Here are some of the common valve options.
Ball Valves
Ball valves are made of a ball with a bore and are often used as shut-off valves. When the ball rotates at a quarter turn around its axis, the fluid is restricted or allowed to flow. In particular conditions, they are used as control valves. However, they are rarely deployed for such applications due to their limited accuracy in controlling the flow rate compared to control valves.
Ball valves are also used to stop the flow of cleaning agents in mechanized washing systems. They provide genuine fastening and operate even after a long time of abandonment. Some of these valves are reliably used for small-diameter, high-pressure applications.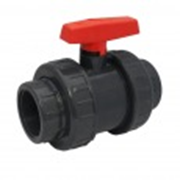 Check valves
Check valves rely on pressure differences to work. High pressure is required more on the input side than the output side to open the valve. And since it doesn't allow reverse-flow, they are more efficient and are commonly used to solve potential back-flow issues.
These valves find use cases in industrial equipment such as washing machines, dishwashers, etc. They help avoid the contamination of cleaning agents due to reverse flow. They also keep a vacuum seal and protect the device from back-flow damage.
Solenoid Valves
Solenoid valves are electromechanical, meaning they are controlled by electricity. These valves are made up of an electric coil with an adjustable ferromagnetic core in its center. Electric current via the coil establishes a magnetic field that exerts some force on the plunger, which opens or closes the orifice depending on the valve's design, i.e., whether it's normally closed (NC) or normally opened (NO).
Solenoid valves are found in industrial devices, e.g., floor cleaning devices and pressure washers. Depending on the design, they provide solutions to high or low-pressure applications and can handle both neutral and corrosive fluids. The figure below shows a 2-way stainless-steel solenoid valve.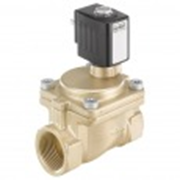 Compressor-unloader valves are an example of solenoid valves that allow for the pump's easy startup. The valve is commonly used in high-pressure industrial cleaning equipment.
Material Selection Based on the Cleaning Agent
Some of the key considerations when selecting valves for industrial cleaning equipment include the valve's housing and seal material. In other words, you should choose a material that's compatible with the various cleaning agents, from aqueous fluids to acidic compounds. Below is a quick breakdown.
Housing Material
The commonly used valve housing materials include:
Brass: Compatible with water-based solvents such as methanol, ethanol, etc.
PVC: Well suited for organic solvents such as propanone and dichloromethane or acids, e.g., ethanoic and citric acid.
Stainless Steel: Compatible with nearly all cleaning agents except bromine, chlorides, household bleach, and hydrochloric acids.
Nylon: Compatible with Hydrocarbons (e.g., alkenes, alkanes, etc.), organic solvents, and degreasers (kitchen degreaser, citrus degreaser, etc.)
Seal Material
Common seal materials used with most valves include:
NBR (Nitrile Rubber) – Compatible with both solvents and alcohols.
EPDM – Compatible with cleaning agents such as water, alcohol, alkali, steam, etc.
FKM (Viton) – Compatible with acidic cleaning agents.
PTFE (Teflon) – Compatible with almost every cleaning agent
Industrial Cleaning Equipment and Valve Selection
When choosing a piece of industrial cleaning equipment or selecting valves to use with these machines, there are several factors you'll need to consider. Below are the common cleaning equipment and what to look for during the selection process.
Industrial Washers – They are used to clean and remove contaminants from the uppermost layer of devices, objects, or parts. These washers use high-pressure water jets to eradicate dirt and are often fitted with high-pressure valves. Depending on the cleansing agent used, the valve must have a PTFE or EPDM seal to withstand extreme temperatures. Brass or stainless steel could be used as the outer cover for neutral-water-based solvents.
Floor Scrubbers – These are automatic cleaning devices used to clean industrial floors. Solenoid valves are commonly used in floor scrubbers to help control the flow rate of cleaning agents. An alkaline solution such as detergents is mainly used in the cleaning process.
Wash Brushes – This equipment is used to remove hard dirt and debris. When used with rotary poles, they effectively clean the floor, windows, and other surfaces. Extension poles could have balls-like valves, which control the flow rate of cleaning agents. Usually, alkaline solutions such as detergents are used in the cleaning process. Stainless steel with an EPDM seal is suitable for use with such cleaning agents.
Summary
Various cleaning equipment finds applications in the industrial sector. This equipment often comes fitted with valves to help control the flow rate of cleaning agents. The latter comes in varying chemical compositions, so you want to choose a valve housing and seal material compatible with the fluid it controls.