Likee is a chinese firm listed on NASDAQ and is a short video creation and sharing app which is available for iOS and Android operating systems. Likee is owned by a Singaporean based BIGO Technology firm, whose parental company is JOYY Inc. Likee was founded by an entrepreneur from Singapore named Jason Hu, who was an ex employee of JOYY Inc.
Likee The Popular Video Making App
Likee was not only a sharing and short video creation app it had other good features which included visual effects, including 4D Magic and Dynamic Stickers, as well as video shooting and editing. It was rated as one of the Best Entertainment App in google play in the year 2017
Initially, Likee was operating under the name  LIKE until mid-2019, when it was rebranded and redesigned with the current name Likee.
also, try Best Chinese apps in India
Likee along with other video sharing apps, was condemned by the international community for personal privacy concerns and inappropriate content. There was a saying by people that, Likee could expose children to sexual predators. After the allegation by the people globally, on 30th September 2019 Likee introduced a  parental controls feature which enabled the parents and guardians to control or restrict young users access to content in Likee.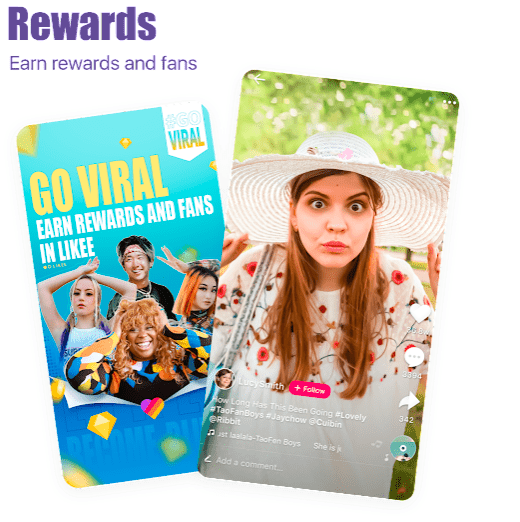 By Mid 2019 Likee had become very popular. In fact on 25 September 2019, the Indian political party AAP( Aam Aadmi Party) created an official account on Likee.
But in June 2020, the Government of India banned Likee along with 58 other apps that were ultimately owned by Chinese companies, stating that there was an issue on data and privacy of the users details, and also added that there was a threat to the sovereignty and security of the country. Further the border tensions between India and China  in 2020, subsequently deteriorated the relationship between the two nations and instigated the ban.
Founder of Likee
In July 2017, Jason Hu  an entrepreneur from Singapore and an ex employee of JOYY Inc. found an application for short video creation and sharing app named LIKE and later renamed it as Likee. Likee was owned by BIGO technology, a Singapore based company. It was Best entertainment app in Google play. This application is for both iOS and android. It gained its popularity in India as it was supported in 17 local languages, until June 2020 when the Indian government banned Likee along with 58 other apps due privacy and data misuse.
&
Features of Likee
Likee is a social media app. Though its primary features are short video creation and sharing app, it also includes other features like visual effects, including 4D Magic and Dynamic Stickers, as well as video shooting and editing. 
Revenue and Business model of Likee
Likee has been attracting millions in monthly active users. It had 150 million active users in June 2020. The main revenue of Likee is through the advertisements. It allows its user to create short  video content and share them with other users. The users can create video from their photo gallery, the tool comes with a lot of fun features and themes where users can play around with. What makes it different from others is its creator monetization tools.
It allows the influencers to make money from virtual gifts that they receive from fans. The VP of its sister concern BIGO technologies Mark Ong made a statement that," they have different modules that allows the users to earn in the course of using the app. Likee inks associations with select creators, who earn on monthly retainer on the content they create.
Likee has launched a Talent creator Academy which offers financial support for the content creators. "This academy provides a forum for talented people to demonstrate their abilities, create high-quality videos, and earn decent money," Ong said.
In 2019 this app generated around 330 million downloads globally. According to Sensor Tower data Likee is ranked as one of the most popular app in January 2020.
Competitors of Likee
Likee is Short video creation and sharing app which was founded by Johnson Hu an entrepreneur of  singaporean based BIGO Technology in the year 2017. By mid 2019 it had gained its popularity, in June 2020 it had 150 million daily active users. The competitors of Likee are TikTok, ShareChat, Byte, Triller, Roposo, 9GAG, MadLipz, Facebook, VMate, Snap.
FAQ's
Likee app is from Which country?
Likee app is from Singapore. As it is owned by BIGO Technology which is based in singapore.
Likee App Alternatives
The alternatives of Likee are
MeMe Live – It is an HongKong based social media app. It is Live Stream Video Chat and Make friends on social mobile app. It has some enhanced features which makes it different from other similar apps. Like other app this app also allows the user to use advanced filters and effects that make live streaming more effective.
ZAKZAK Pro – ZakZak Pro is a webcam chat online to meet new people is for genuine singles who wish to meet and communicate with genuine individuals from all over the world. The software is similar to Tinder, but it has a number of new social communication elements that set it apart from the competition.
BeLive – BeLive provides an extremely smooth, appealing, and remarkable approach to communicate with an elite audience from around the world. BeLive is a smartphone application developed and distributed by Belive.tv that is available for free download and use. You can use the app to participate in a Facebook Live broadcast. It is a basic yet effective application that enhances and beautifies your broadcasting.
MiLive – Xiaomi Inc. developed and published Mi Live, a social networking platform designed specifically for all broadcasters who wish to showcase their ability in front of the world. It's a fresh new live streaming software that has outstanding broadcasting, video chat, and a variety of additional features to ensure you have a great time.
Yee call – You can easily make free calls to people all around the world and stay in touch with your loved ones at any time. Yes call app is compatible with Android and iOS smartphones and tablets. It provides high-quality video and voice calls with crystal clear speech, allowing you to clearly hear what the other person is saying.
When was Likee created?
It was created in the year 2017 initially as LIKE, and later renamed as Likee in mid 2019. 
Who is the owner of Likee?
Though it was founded by Johson Hu it is owned by BIGO Technologies, an Singapore based company
Is Likee also banned in India
Yes, It is banned in India, along with 59 apps in June 2020. These apps are illegally transmitting data to countries outside India. Under section 69a of the Information Technology Act, 2020, citing a threat to national security and the privacy of Indian individuals.
Is Likee chinese app?
Yes, it is chinese app as of current ownership. Though initially BISO Technology was a Singapore based company, in  March 2019, the NASDAQ listed company JOYY Inc acquired it. After completion of the acquisition it has been owned by JOYY Inc, a chinese company.